Indianapolis Crawlspace Waterproofing & Repair Contractor
Groundwater and high humidity can cause mold, mildew and rotting of your home's stucture. Jaco will install a crawl space encapsulation system to block out soil gasses, lower the humidty and prevent odors from entering your home. Our 30 years of experience will give you the peace of mind to know that the job is done right.
In a word, experience. We have been in business for over 30 years. Only the best companies can say that. At Jaco we use only the highest quality materials available to perform your crawl space encapsulation. We will give you a free estimate and go over all the details of the job with you. Our courteous technicians will quickly get your job done right.
8 Symptoms of a Crawl Space Moisture Problem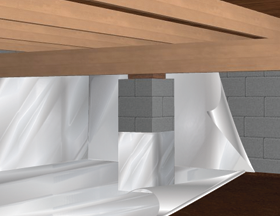 Mold or moisture damage in the crawl space
Musty odors in the living area
Condensation on air conditioning ductwork or equipment
Condensation on insulation, water pipes
Buckled hardwood floors
High humidity in the living area
Insect infestations
Rot in wooden framing?
10 Reasons to Encapsulate Your Crawl Space
Eliminates excessive, destructive mold and moisture within the crawl space.
Greatly improves indoor air quality within the crawl space and throughout the entire home.
Reduces the number one source for entry of radon gas into the home.
Protects against allergens such as mold and dust mites throughout the entire home.
Seals out bugs, spiders, rodents and termites from the crawl space.
Insulates the crawl space and reduces energy costs.
Creates a clean, dry, sanitary crawl space, making it an ideal storage area.
Protects structure of home from dry rot and termites.
No more crawl space musty smells from moisture and mold.
Cost-effective, one-day installation that increases the resale value of your home.
Crawl Space Encapsulation
Every job is different and you can trust Jaco to determine the most effective repair for your crawl space. This may include a vapor barrier over the soil, walls and flooring. Also it is important to remove any groundwater entering the area. When necessary additional vapor retarders and insulation may be installed.